Real Life - February 2, 2018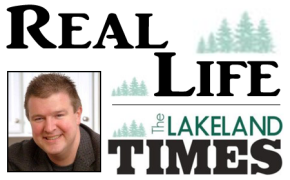 Real Life -- Lakeland Times -- February 2, 2018
Real Life with Pastor Steve
February 2, 2018
"Practice what you preach… or change your speech." ~ author unknown
Nobody likes a hypocrite. When we say one thing, but do the exact opposite, we lose all credibility. If we claim to believe one thing, but then live in a way that contradicts that so-called belief… that only proves what we truly believe. And the truth is, religious people are more guilty of hypocrisy than just about anyone. We often make great claims about having the right answers or making a stand for the Truth, but our lives are just as messy and broken as anyone else.
Jesus was pretty tough on hypocrisy. He didn't pull any punches. He was quick to point out the self-righteousness of religious people. But Jesus also calls us into a new way of living. Instead of being a people of judgement, who arrogantly think we have all the right answers, Jesus calls us into an attitude of humility and gentleness. Jesus calls us to love.
We are all broken. We all make mistakes. We all fall short. And because of this, there is no room for arrogance or self-righteousness, especially for those who claim to follow Jesus. Jesus shows us a better way to live and a better way to love.
Nobody likes a hypocrite, but it's hard to argue with love. No one wants to listen to a blowhard, but it is difficult to dismiss a person of humility, who is more than willing to own up to their own shortcomings first. And that's…real life. ~ Arnie Boedecker on behalf of Pastor Steve Rowe – Eaglebrook Church
Eaglebrook Church
A Non-denominational fellowship – EaglebrookMinocqua.org
Sundays 10:00 a.m. @ 1025 Margaret Street in Woodruff
715-356-3313 –